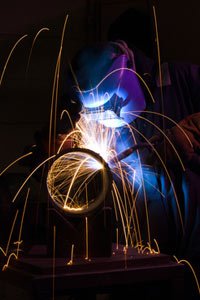 Orbital welding is one of types of welding works consisting in automatic arc welding of circular seams by means of special welding equipment and mechanisms. Its field of application is quite wide: today orbital welding is used for assembling heat power objects, pipelines, and various equipment of pharmaceutical, food and other industries.
The major advantages of this type of welding are speed and quality of works allowing to avoid any errors and defects that may happen at hand welding. It is achieved by means of welding programs that, once programmed and tested, can be used many times, and the number of such programs is unlimited.
In general, orbital welding is applied where hand welding is difficult or impossible, where elements to be welded cannot be moved, and where high quality of welded seams is required.
If the listed-above is important to you, call to LLC Techmontazhprom-Service. We are always ready to come to yout object wherever it is and perform the highest quality orbital welding.
Don't think twice, choose the best!
Orbital welding – great quality in minimum time!