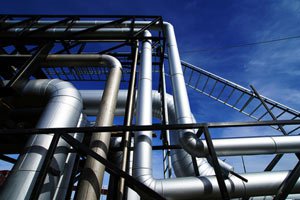 Everybody knows how difficult is to manage without gas: it is a good fuel for people and industrial enterprises. That is why today you will hardly find a non-gasified spot. Yet, there are always exclusions from the rule. If you made a decision to install gas supply, it means that you've been thinking already about who and how shall perform gas pipelines assembling. As nobody has any doubt that such work requires high level of skills and responsibility.
Therefore you need to find a construction company with the license for installment of gas equipment and gas pipelines assembling. If there is no such license, you risk not only your money, but your safety as well, because these days there are too many "one-day" companies performing works of doubtful quality. Moreover, such companies just don't have right to perform gas pipelines assembling and gas equipment installation, which means a lot of problems for you in future.
So, if you have chosen the company and checked the availability of proper license, don't fail to ask at which objects specialists of this company already worked. If the company is trustworthy and professional it has nothing to hide from its customers.
LLC Techmontazhprom-Service is always open to its customers. Contact us!
Gas pipelines assembling is our specialization!