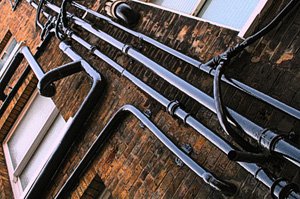 Metal works are building structures used as load-bearing structures in frames of various buildings and constructions. In most cases such structures are made of steel. Metal works assembling means the process of assembling and installation of all elements as a single structure. Design and assembling of metal works is the process of making schemes and drawings for future structure and further assembling of building structures that will be load-carrying framework the according to such schemes and drawings.
Metal works design and assembling are an important part of today's agricultural, commercial and industrial construction. Popularity of metal works design and assembling for constructions is well explained by a number of advantages, for example:
Possibility of disassembling of metal works with their further installation somewhere else;
Cost-saving;
Minimum time of metal works design and assembling;
Durability and high strength properties;
Possibility of assembling in any weather conditions;
Reliability and easy operation
Also, modern building metal works allow to erect buildings with large spans which is important for agriculture and industry.
LLC Techmontazhprom-Service offers you services of metal works design and assembling.