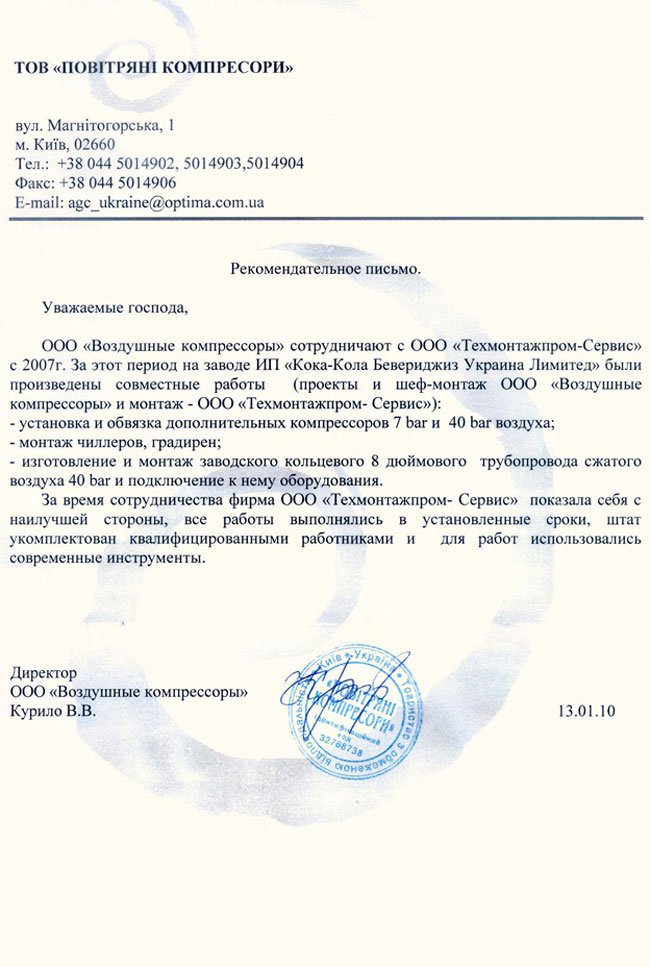 LLC Air Compressors
1 Magnitogorska St., 02660 Kyiv
tel.: +38 044 5014902, 5014903, 5014904
fax: +38 044 5014906
E-mail: agc_ukraine@optima.com.ua
Recommendation letter
Dear Sirs,
LLC Air Compressors works with LLC Techmontazhprom-Service since 2007. Within this period the following joint works ( projects and supervised installation by LLC Air Compressors, assembling by LLC Techmontazhprom-Service) were performed at the plant of FC Coca Cola beverages Ukraine Limited:
installation and piping of additional; compressors of 7 bar and 40 bar;

chillers and air-cooling towers assembling;

production and assembling industrial loop 8 inch compressed air 40 bar pipeline and connection of equipment to it.
With the entire period of work, LLC Techmontazhprom-Service presented itself well: works were performed within the time schedule, personnel was highly qualified and works were performed with using up-to-date tools and equipment.
Director
LLC Air Compressors
Kurylo V.V. 13.01.10
---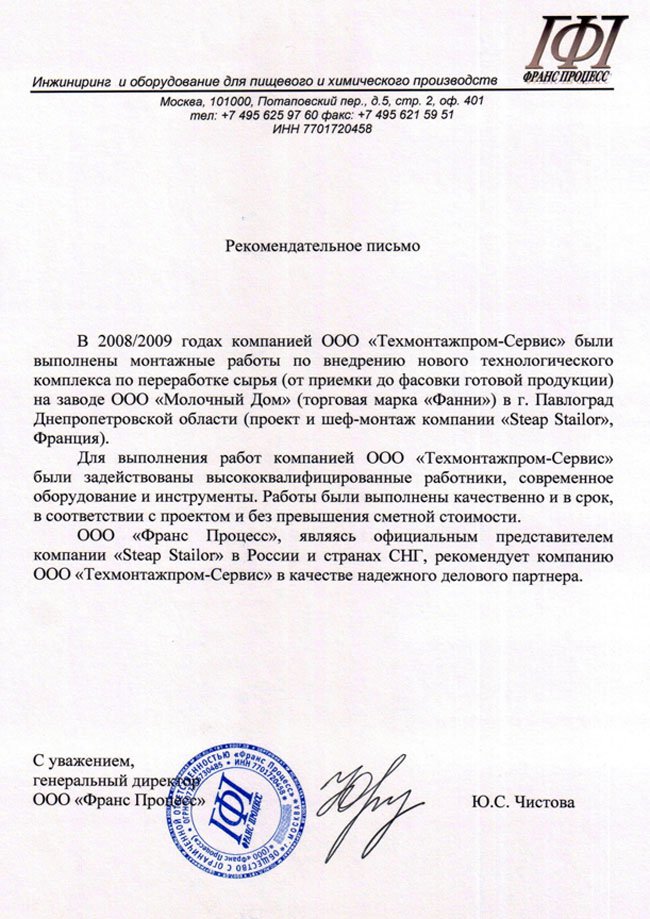 FRANCE PROCESS
Office 401, 2 /build. 5 Potapovskiy lane, 101000 Moscow
tel.: +7 495 625 97 60
fax: +7 495 621 59 51
PTN 7701720458
Recommendation letter
In the years 2008/2009 LLC Techmontazhprom-Service performed works for implementation of a new raw materials processing complex (from raw materials acceptance to packing finished products) at the plant of LLC Milk House (TM Funny) in Pavlograd, Dnepropetrovsk oblast (design and supervised installation by Steap Stailor, France).
All works were performed by skilled and qualified workers of LLC Techmontazhprom-Service with the use of advancedå equipment and tools. Works were performed in quality and timely manner, according to the project, and the estimated cost was not exceeded.
LLC France Process, the official representative of Steap Stailor in Russia and CIS countries, herewith recommends LLC Techmontazhprom-Service as a reliable business partner.
Faithfully yours,
Director General
LLC France Process Yu.S. Chistova
---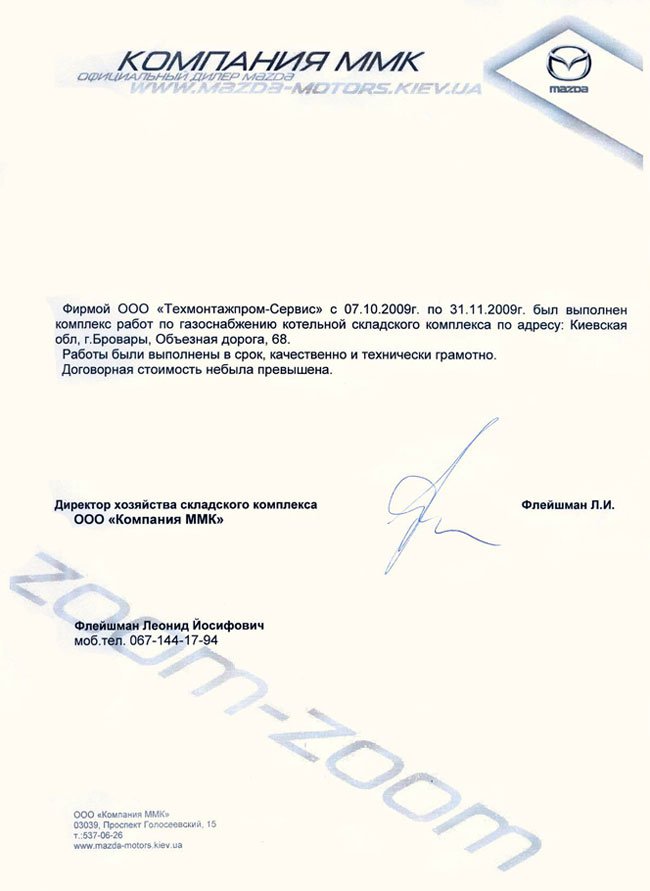 ÌÌÊ
In the period from 07.10.2009 to 31.11.2009 LLC Techmontazhprom-Service performed a complex of works for gas supply to the boiler room of the warehouse complex located at the address: 68 Bypass road, Brovary, Kiev oblast.
Works were performed in time, in quality and technically sound manner.
The contract cost was not exceeded.
Director of the Warehousing Complex
of LLC Company ÌÌÊ Fleishman L.I.